About the Author
Hello:
My name is Frank D. Mann. That, of course, isnít my real name, but in todayís day and age, you have to be careful who you give your real name out to. Anyways, you have stumbled onto my little corner of the information superhighway. I wanted to share with you a little on my background, why I have created this page, and what I hope to accomplish with it. So sit back and enjoy the little tour!
Technically I was born in California, but I am from Ohio, the Cleveland area to be exact. I moved there when I was a baby,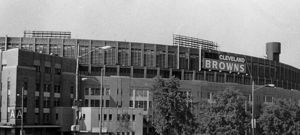 and I stayed there all the way until I was 18 years old. I grew up watching the Browns on TV when they were on the road, and I loyally listened to them on the radio when they were playing in Cleveland Municipal Stadium. Back in the early 1980ís, there werenít many games that were sellouts, so the radio was our only option. My earliest memory of a Browns game was the 1980 playoff game vs. the Raiders in Cleveland. I remember it being a cold day. I remember the Kardiac Kids, led by Brian Sipe. And I remember the great ďmistake on the lakeĒ. That was the first of many playoff heartbreaks I was to experience. After that, I remember what seemed to be countless losing seasons (It was actually only 2 or 3), but I didnít care, I still loved the Browns. The first season that I actually remember in detail was the 1984 season (Iím only 24). The one game that sticks out in my mind was the season opener against the Seattle Seahawks. It was a 33-0 shellacking, and it paved the way for a 5-11 season. I remember distinctly that coach Sam Rutigliano got replaced in favor of defensive coordinator Marty Schottenheimer. That began the glory days of the Browns and that also jump-started my life-long interest in them. Browns mania struck me. Since that awful year, there have been the highest of highs, and the lowest of lows, and everything else in between. Bernie Kosar and the DAWGS. Those were my glory days. Those were my heroís.
Times began to change. I left the house, and joined the United States Air Force in 1994. My first active duty assignment was Elmendorf AFB, Alaska. As you can imagine, I didnít get a chance to view too many Browns games up there. I did get my share of Seahawks games (big deal). This was before I knew anything about the internet or computers, so I had to revert to watching ESPN and getting the Cleveland Plain Dealer sent to me from my parents on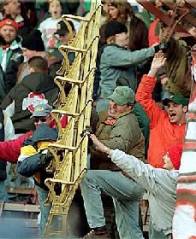 occasion. Then, during the 1995 season, it was announced that the Cleveland Browns, who were a fixture in the city of Cleveland for 50 years, were moving to Baltimore. I watched in horror as the season fell apart, the team fell apart, and even the stadium began to succumb to unruly enraged fans.
Thatís when I realized how lucky I was to have a professional football team, especially the Browns. My biggest regret was that I had lived in Cleveland Ohio for almost 20 years, and I had never bothered to go to the Pro Football Hall of Fame. I had only been to maybe 5 Browns games in my life. Now I am planning a special trip to Ohio to visit the Hall of Fame. I am also perusing the on line auction sites looking for Browns tickets. I would suggest to all that live in the Cleveland area to definitely check it out.
Once Cleveland got a new team from the NFL, the old stadium was getting ready to fall, this time to wrecking crews, not rowdy fans. I decided to get a piece of history. Since I was in Alaska, I had my dad grab me a piece of the stadium, and there it sits on my shelf: an actual brick from the Lady on the Lake. From then, I followed all of the Browns news on the internet. The official site of the Browns carried the construction cam, which I viewed every single day. I also got my news from various Ohio and national sports sites. By this time the internet was big in the Air Force and I was able to keep well informed on all Browns events.
As that first preseason game versus the Cowboys approached, the Air Force gave me a new home, Langley AFB, Virginia. This was my assignment of choice. I was happy to be coming a little closer to home. It would definitely give me an opportunity to go to the Hall of Fame, as well as Browns games and events. I prepared for 1999 in a special way. I painted my NIKE shoes orange, so I could display my colors loudly and proudly when I went out to watch the game (because Virginia is definitely Redskins territory). Well, between moving, adjusting to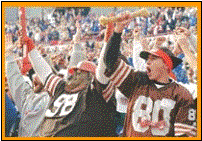 my new surroundings, and taking care of my military obligations, I didnít get out to the sports clubs at all in the 1999 season. I did catch 2 games at home, however. The 43-0 massacre by the Steelers and the Ravens come from behind victory in the first Cleveland-Baltimore match up. Maybe it was a good thing that I didnít get out so much that year. The 2-14 record would have subjected me to much ridicule, but it wouldnít have mattered.
I guess that my buddy Fishbone (visit his page here) first got me started into web page

building. He emailed me a much smaller version of his page one day. He said that he had built it all himself, from scratch. I had always wanted to do that, but I didnít know how, and if you have ever tried to do something on your own with no training in it at all, you know how frustrating it can be. Well anyway, he told me that he had created it in Front Page Express. So I then began messing with it, and it was fairly easy. I then progressed through different programs, before I decided to purchase Macromedia Dreamweaver 3.0 (it is the best web design software out there, in my opinion). I then began producing my personal home page. I really found that page building was a great outlet and a way for me to be somewhat Ďartisticí. Rembrandt had canvas, and de Vinci had clay. I have an 800 x 600 blank white screen.
My personal page, however, started to become laborious. I think it is because there is no real theme to the page. I mostly did it to see how many gizmosí I could put into one site. If you want to check it out, click here. It really is pretty cool, but very incomplete. I got burned out on it too fast, because there are so many different categories on the page. I decided to come

up with a page with a theme, so I created one on Angelfire, and made a cool logo for it (see right). It was to be a site with web page utilities, graphics, backgrounds, scripts, applets, etcÖ but my heart wasnít into it at all. It was fun to design the layout of the page, but the information insertion was something I wanted nothing to do with. I had to come up with a theme that my heart was in, and there was only one thing that came to mind.
This site was born. I picked the Browns because they had been my biggest enjoyment my whole life. I love the Tribe, and baseball was my first love, but football was my passion. Let me tell you, this site has been a huge success for me. I have loved every grueling and monotonous minute of research and data collection. I have purely enjoyed every single wrist-

aching minute of data entry for this site. Every page that I complete brings a smile to my face, and I could work on this site all day long and not get tired of it. Ask my baby (my real true love) how much I enjoy this site. She drags me away from the computer every night. I love her anyway.
The creation of this site has been long and slow. I will admit that I didn't work on it too hard for a period of time, but the requests for information and all of the kind words have kept me going. This site has reached 2000 hits in nine short months, and it has been nominated as a 2001 All-Pro Site on Dick Butkus's network. I hope that you all enjoy the new changes that have come about in the month of January '01. I plan on adding player and coach biographies as soon as possible, but if you want to submit me some, email me.
Well, I guess that's about it for me. Enjoy this site, and if you have any recommendations, please fill out the survey, and remember that this site is still under construction, so bear with the minor glitches for a while.
Have fun!

This page has been visited 1306 times since 6/22/01

Cleveland Browns History is an independent football site dedicated to giving all fans free access to a complete library of Cleveland Browns information. This site is not affiliated with the Cleveland Browns, the National Football League, or any of their affiliates. This site does not generate profit, nor does it have expenditures. All photographs are property of their respective owners and may not be reproduced.

All code, content, and format is copyright 2000-2001 FDM Netertainment Services, Frank D. Mann, and/or the Cleveland Browns History Site unless otherwise specified. All rights reserved. All articles and editorials may be reproduced provided appropriate credit is given to this site.